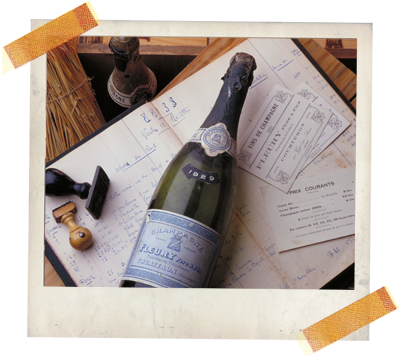 Champagne Fleury Organic and Biodyanmic Champagne house.
AOC Champagne Blanc de Noir Brut NV
Ref PFC01
Enduringly popular Champagne for one of the best producers
Where would we be without Fleury and his magnificent Carte Rouge. We love it, our customers love it and so do the critics. It's a bold, bready, raspberry flavoured Champagne that exudes class. You'll struggle to find better at this price.

AOC Champagne Rosé de Saignée Brut NV
Ref PFC02
Jean-Pierre Fleury is something of a master craftsman when it comes to making Pinot Noir dominated Champagne. Don't even being to think that pink means frivolous; this wine is deadly serious about its rich, fragrant red fruits, the fine mousse and taste in the mouth that seems to linger forever. This Champagne will adapt to all sorts of situations but will shine with all sorts of well-flavoured foods.

AOC Champagne Millésime 2000 Extra-Brut
Ref PFC03
Rich, complex and honeyed. An absolute treat, the oldest vintage Champagne on the Vin de Terre List. Hazelnut and honeyed fruits are well-developed in this exquisite Champagne. It's stylish, elegant with persistent flavours. Utterly delicious and a fabulous treat.