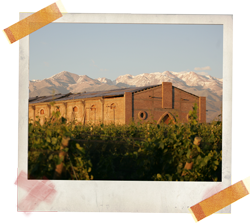 Frenchman Jean Bousquet travelled thousands of miles to find his 'optimum' vineyard location. In Mendoza, Argentina he found a site with, in his words 'idyllic wine-growing precipitation and temperatures, mild during the day and cool at night, situated at a 1,200 metres above sea level, with fresh air, few funguses, and very permeable sandy and rocky soils. rotting and without having to use fungicides'.
Tupungato Chardonnay 
Ref BAT01 
The vineyards sit some 4000ft above sea level and here the grapes develop a really brilliant clarity of flavour; apples and pears with hints of spice in the finished wine. Jean Bousquet practices minimal intervention winemaking and everything that's wonderful about this wine comes from the high quality grapes he produces in the vineyard.
Tupungato Reserva Chardonnay Pinot Gris 
Ref BAT02
The wine is bright yellow and shiny, with golden highlights. In the nose it presents fresh aromas of tropical fruit. It has concentrated notes of apple, peach and lime in the mouth. It presents a balance of sweetness and acidity; it is very creamy and round in style.
Tupungato Malbec 
Ref RAT01 
This represents an opportunity to taste some seriously good winemaking at a reasonable price. As with the Bousquet Chardonnay, there's a desire to let the quality of the fruit speak for itself, so the wine is aged in oak for just six months before being put into bottle. This means that you can pick up the vanilla and spice that the oak brings without losing any of the fantastic black plum, blackberry and dark cherry fruits that Malbec is famous for.
Tupungato Reserva Malbec 
Ref RAT02 
There's no question that this is Malbec wine but there is a smattering of other grape varieties in here too: Cabernet Sauvignon (5%), Merlot (5%) & Shiraz (5%) which adds additional substance to the wine. Aged for ten months in solely French oak (rather than a combination of American and French), which is generally accepted to deliver a more finesse and subtle flavouring and this works well in this wine which is fantastically intense and has flavours of black fruits, spice, caramel, chocolate, liquorice, fig and much more.
Tupungato Grande Reserva Malbec 
Ref RAT03 
An arresting wine which takes your taste buds on a roller-coaster ride! Crammed full of blackberry, damson, pepper, chocolate and spice, there's no end to this wine's ability to please. Twelve months in new French oak enables you to revel in the smooth, velvety richness that this has imparted and the only challenge for the lucky drinker is to serve it with a dish as richly flavoured as the wine in the glass.
Tunpungato Dulce Malbec  50cl
Ref RAT04 
Late harvest Malbec, made in an un-oxidised style. With the depth of fruit of a great port but still fresh, this is the prefect partner for a sticky chocolate cake or hand made vanilla Ice cream.