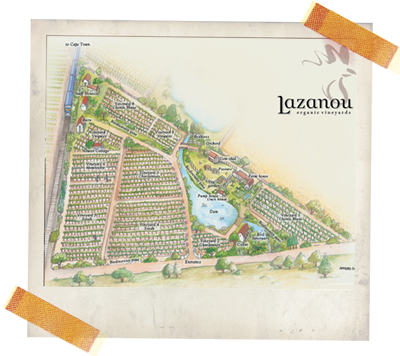 A small estate of 5,5 hectares, situated in the Wellington region of South Africa's western cape. Wellington is known for its Chenin Blancs, but here we see that other great wines can be made in this little known region.
Lazanou Chardonnay / Chenin Blanc
Ref BSW01
68 % chardonnay, 32% chenin blanc. Tip-top white that's a judicious combination of rich citrus fruit and a softness that's been achieved by lees-stirring which develops more richness in the wine. South African wines are currently offering British wine drinker's exceptional value for money and this is a excellent bottle of wine for the price.
Lazanou Syrah/Mourvèdre
Ref RSW02
68% Syran and 32% Mourvèdre, rich and concentrated flavours of wild berries coming from the Syrah and a savory edge from the Mourvédre. This wine is big enough to take the new oak it was aged in (50% French and 50% American). A lovely and very bold wine with surprising complexity and a lot to write home about..